ROCK COD TOURNAMENT RESULTS
By: Phil Howard
The fishing gods were kind on March 19th. The anticipated changing weather held off long enough for the 21 anglers registered in this year's rock cod tourney to get underway in very fishable conditions. Boats spread out in all directions, as skippers worked secret spots and edges from the Mexican Border to Del Mar and beyond. Good action was reported most everywhere, with quality Reds responding to live bait, slabs and jigs alike.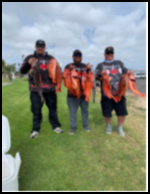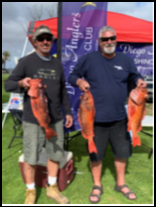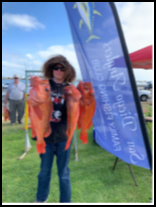 For those who made the turn Northward, the gods were extra kind. Limits-style fishing on 4 to 5 lb. (and above) rockfish was commonly reported. Paul Bunch secured "big fish" honors with an outstanding 8.82 lb. monster—just part of his 3-fish bag totaling 20.52 pounds!
By tournament's end, a total of 14 anglers checked in at the scale. Seven of those participants scored sack totals above 11 pounds!
Tournament results were as follows:
Adult:
1st: Paul Bunch 20.52
2nd: Chad Gierlich 16.88
3rd: Danny Higley 16.40
4th: Frank Santiago 15.12
5th: Dale Shaw 13.80
Junior: 1st: Cash Troop 13.80
Ron Lee claimed the side pot for largest lingcod with a nice 7-pound specimen.
Plenty of laughs and stories were shared over sandwiches at the weigh-in—until the growing winds and falling temperature chased us all away.
Your next chance to shoot for fishing glory will be the Halibut Tournament scheduled for Saturday, April 16th.
Thank you for reading!