Tournament Date–Jan 25, 2020
Congratulations!!!!!!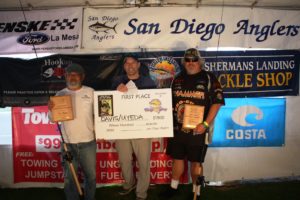 To Bryan Davis and Whitney Uyeda for winning this years event. They brought in a beautiful sack of sandbass (10.43 pounds) topped by a nice 5 pound fish. The win earned them $1500 from Fishermans Landing tackle, $250 for largest bass (Seaforth Boat Rentals) and the jackpot of $1450. Rumor has it they caught their fish on Ring Hammer made by Big Hammer lures.
Read about it on his facebook page
https://www.facebook.com/bryan.davis.71?__tn__=%2CdCH-R-R&eid=ARASeLFjmwJyEFkeVd4nPfV9hv55jBzF30TqQWOpVq1AnuMdJrtvQE5vLJa6bA6qBOfihwc29cd49XON&hc_ref=ARRpiS0B6cHzuuSOYYGiX_JoHLRPsqcvjflKvleMMO8OhImPb21BtsvNCqdj-0ANwg8&fref=nf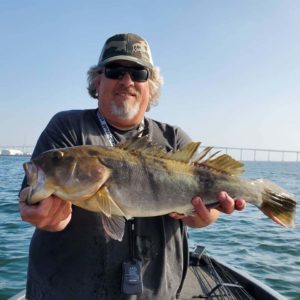 Top 25
| | | | |
| --- | --- | --- | --- |
| 1 | Davis | Uyeda | 10.43 |
| 2 | Hill | Hill | 10.16 |
| 3 | Jamieson | Buono | 9.93 |
| 4 | Souza | Souza | 7.77 |
| 5 | Hargis | Gilbert | 7.61 |
| 6 | Buckalew | Weintraub | 7.52 |
| 7 | Israel | Israel | 7.1 |
| 8 | Pritzl | Pritzl | 7.03 |
| 9 | Handzus | Handzus | 6.58 |
| 10 | Romero | Keppeler | 6.06 |
| 11 | Mohney | Tolentino | 5.59 |
| 12 | Talamantes | Talamantes | 5.59 |
| 13 | DeLong | Rodgers | 5.39 |
| 14 | Moyer | Moyer | 5.31 |
| 15 | Hendrix | Diaz | 5.22 |
| 16 | Pearce | Badillo | 4.91 |
| 17 | Heron | Yokoyama | 4.77 |
| 18 | Rendon | Hardardt | 4.77 |
| 19 | Crull | Macurda | 4.67 |
| 20 | Higley | Smith | 4.61 |
| 21 | Power | Douglas | 4.49 |
| 22 | Kasyouhannon | Kalasho | 4.43 |
| 23 | Ponder | Beerling | 4.4 |
| 24 | Wechsler | Sweeney | 4.39 |
| 25 | Sedgwick | Lamberson | 4.35 |
Next up. Top 25 Invitational
Spring 2020.
Stay tuned for more details
2020 Open Bay Bass Tournament Entry Form
Please download the entry form, print it out and mail it in as soon as possible to participate in this years Open Bay Bass Tournament. We will keep you posted as we get closer to the event.
**************************************************************
Save the date!!!  That is the date for the 23rd Annual Bay Bass Tournament.  Third time is a charm, or so they say!  After being cancelled twice last year due to high winds, we will be putting on the 23rd annual event this next January. We are gathering our sponsors now and should have the entry forms ready sometime in Dec 2019. Stay tuned.
We make all contact through email. If your email address has changed, please let us know or if you would like to get your name on the email contact list as a new participant contact Dwayne at dwaynesda@juno.com
A little info for the new people that are interested:
Welcome to the San Diego Anglers Bay Bass Tournament page. This will be our 23rd year of hosting this event and we hope to do it for 20 more!!
We want to start off by thanking Rob Butler from Boat U.S.- Vessel Assist for being the Title Sponsor again this year. Through his generosity we are able to keep this tournament a high caliber event!
The tournament draws anglers from all over the southwest U.S. to compete for about $10,000 in cash and prizes. We host 150 two-man teams and kayaks to go out and catch the 3 largest bass (Sand , Bay and Calico bass) and weigh them in. The largest sack this year will walk away with $1500 in cash (Sponsored by Fisherman's landing tackle Shop) and if they also got in the optional jackpot, they might walk away with between $3500 and $4000 this year. If you don't catch the largest sack, don't worry because we pay down 25 places! And back again this year is a separate kayak division. Ron Lane and Fast Lane Kayaks along with Hobie Kayaks have sponsored this years Kayak division. The largest 3 fish sack of bass will walk away with $500. And if you don't catch the largest sack, again don't worry as this division will pay down 5 places!
When the fishing is all done, everyone is invited to our signature BBQ. Hamburgers (Iowa Meat Farms), hot dogs and fresh fish with all the fixings will be ready for everyone with beer (Ballast Point), sodas and water to wash it all down. When we are all full and happy, we give away the tournament cash prizes and then end the day with a giant raffle, thanks to all of our wonderful sponsors.
But we are not through!! We invite the top 25 teams back in March or April and do it all again! Different this year for top 25 is that instead of a "winner-take-all" event for the $1500 top prize, we will split the cash and pay down 3 places. $1000, $500 and $250.
If this all sounds like fun, then click on the link at the top of this page, download the entry form and mail it in with your entry fee. Hope to see you all there!!!!
We can't sign off without THANKING ALL of our sponsors. Without there generosity, this event would not happen!
You can also follow us on our Facebook page www.facebook.com/openbaybass
OLD Postings
Bay Bass Invitational, March 16, 2019
Because the Tournament was cancelled, we did not have a top 25 to choose from for our annual TOC. We struggled with whether to do this tourney  but decided to give it a go and call it an "Invitational". We will be contacting teams from previous years by email to invite them to join us for this event. The tourney is an informal event conducted at Shelter Island launch ramp. There is no large tent, sponsors, beer, raffle or any of the hoopla, associated with the OBB. Just a bunch of really good bay fisherman competing for 3 prizes of $750, 500 and 250 team prizes for catching and weighing their largest 3 bass out of the bay. We will contact the teams by email around March 1. Not all teams will be able to accept so it leaves a slim possibility for an opening or two. If it is something that you might want to try, you can get on my waiting list by emailing Dwayne at dwaynesda@juno.com
If someone drops out, I will contact you by email. The entry fees are the same with a optional JP also.
I would like to take the time to thank everyone for their patience regarding OBB and the refunds. We had to write so many checks that we ran out of blank checks and had to order more from the bank, thus the delay. If for some reason, you have not received your refund, please contact me at the above email address.
Tournament has been cancelled!
The weather has beat us again. NOAA weather has called for a small craft advisory for San Diego which means we can not run the event. The safety of everyone involved is paramount! We will be refunding every ones money within 7 to 14 days. If you have bought a shirt, you can pick it up at our next club meeting or we can ship it to the primary address on the application form for $5 per shirt, which will be deducted from your application fee. Please contact Dwayne at dwaynesda@juno.com for instructions on your shirt
We are sorry for the inconvenience that has caused and we wished we could postpone it, but due to a very busy schedule, both club and personal, there is no other date to put on such a huge event. It takes a huge amount of time to wind this event back up, time which we do not have. We will start planning again for next January and hope for a better outcome!
Tournament has been postponed
until Feb 16, 2019 due to the predicted high winds that will be accompanying the rain this weekend. The tent can not be put up therefore, no tournament. Feb 16th is the only option. The club lost a key member recently and his memorial service is on Sat Feb 9th and the whole club will be there.
If you have conflicts with your schedule and you can not make it, a refund will be issued. We are sorry for the inconvenience, but we have to put safety first and keep your fingers crossed that the 16th has doable weather!
If you can not make it, contact dwayne through email only at
We will post info as it develops.
ITS BACK!
23rd Annual Open Bay Bass Tournament
Saturday Feb 2, 2019
With the Shelter Island Launch ramp remodel almost done, we will once again be hosting the popular SDA Open Bay Bass Tournament. We are not planning any changes and are in the process of gathering up all our past sponsors right now. We will once again have a boat division and a separate kayak division.
Stay tuned for more detail and we will keep you updated as we proceed.
We did send out a mass email announcing the event to our past participants. We got a lot of bounce back as people have changed their email address's. If you would like to get on the email list again and you have changed your email address, or you would like to join for the first time, please contact Dwayne at  dwaynesda@juno.com
Entry form is now available, click on link below
See more info on the next page
Thank you for reading!