Tournament Date–Jan 25, 2020
Congratulations!!!!!!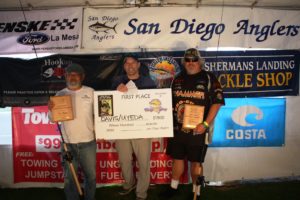 To Bryan Davis and Whitney Uyeda for winning this years event. They brought in a beautiful sack of sandbass (10.43 pounds) topped by a nice 5 pound fish. The win earned them $1500 from Fishermans Landing tackle, $250 for largest bass (Seaforth Boat Rentals) and the jackpot of $1450. Rumor has it they caught their fish on Ring Hammer made by Big Hammer lures.
Read about it on his facebook page
https://www.facebook.com/bryan.davis.71?__tn__=%2CdCH-R-R&eid=ARASeLFjmwJyEFkeVd4nPfV9hv55jBzF30TqQWOpVq1AnuMdJrtvQE5vLJa6bA6qBOfihwc29cd49XON&hc_ref=ARRpiS0B6cHzuuSOYYGiX_JoHLRPsqcvjflKvleMMO8OhImPb21BtsvNCqdj-0ANwg8&fref=nf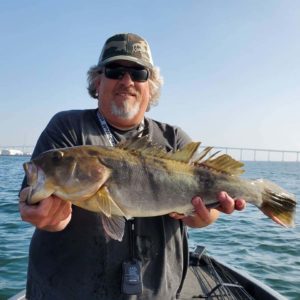 Top 25
| | | | |
| --- | --- | --- | --- |
| 1 | Davis | Uyeda | 10.43 |
| 2 | Hill | Hill | 10.16 |
| 3 | Jamieson | Buono | 9.93 |
| 4 | Souza | Souza | 7.77 |
| 5 | Hargis | Gilbert | 7.61 |
| 6 | Buckalew | Weintraub | 7.52 |
| 7 | Israel | Israel | 7.1 |
| 8 | Pritzl | Pritzl | 7.03 |
| 9 | Handzus | Handzus | 6.58 |
| 10 | Romero | Keppeler | 6.06 |
| 11 | Mohney | Tolentino | 5.59 |
| 12 | Talamantes | Talamantes | 5.59 |
| 13 | DeLong | Rodgers | 5.39 |
| 14 | Moyer | Moyer | 5.31 |
| 15 | Hendrix | Diaz | 5.22 |
| 16 | Pearce | Badillo | 4.91 |
| 17 | Heron | Yokoyama | 4.77 |
| 18 | Rendon | Hardardt | 4.77 |
| 19 | Crull | Macurda | 4.67 |
| 20 | Higley | Smith | 4.61 |
| 21 | Power | Douglas | 4.49 |
| 22 | Kasyouhannon | Kalasho | 4.43 |
| 23 | Ponder | Beerling | 4.4 |
| 24 | Wechsler | Sweeney | 4.39 |
| 25 | Sedgwick | Lamberson | 4.35 |