September 5th Club Meeting
San Diego Anglers are proud to Present:
Ben Secrest
Ben Secrest is a California native and learned to fish from his father at an early age. He spent his youth fishing freshwater every weekend and graduated into saltwater fishing as a teenager. Working in the fishing industry for over 30 years has given him the opportunity to fish globally throughout his career. Fishing is not only his passion but runs through his veins. No mater where and when, if its biting he will be there. He has passed on his passion to his children and enjoys educating the public on fishing any way he can. The saying "Life through fishing, Fishing through life" reflects his mission in life. He has worked throughout the fishing industry at various companies such as AFTCO, Shimano, and Accurate.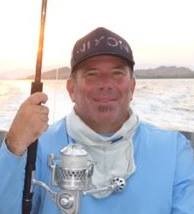 An evening you won't want to miss!
5th Floor Ballroom
Doors open at 6:00pm Meeting starts at 7:00pm
Not a SDA club member and want to join? Click on the Forms tab and download the SDA Membership Application.