San Diego Anglers Monthly Meeting

Presents: Rosie Flowers
I was born and raised in San Diego. I started fishing when I was 10 with my father and brothers and
a few years later my boyfriend worked on the sportfishing boats and I would tagalong anytime I
could. I married that boyfriend and we raised our kids in San Diego, they both also fish.
I helped to start a fish processing company in Pt. Loma and eventually owned and worked at
Fisherman's Processing until I sold my shares in 2016.
I was approached by Al Gross & Patrick Wang and starting working with Cedros Sportfishing as the
General Manager and overseeing all operations in January of 2017.
Cedros Island is the yellowtail and calico bass capital of the world and no one does it better than
Cedros Sportfishing. We were the first and original fishing lodge on Isla Cedros. We are committed
to providing 1st Class Service to our guests and an unforgettable fishing experience. We offer all
inclusive 4, 5 and 6 day fishing trips. We take care of your ground and air travel to and from the
island. Our super pangas are 27' and have experienced, local captains. The lodge is first class and
sits on a bluff overlooking the ocean with spectacular views, is comfortable and air conditioned.
Our chef's prepare hearty local dishes and are famous for their pozole. We provide your travel
permits and fishing licenses and have a daily laundry service. For the summer of 2017, we have
built a new fish processing facility and have brought in a commercial vacuum pack machine and all
fish will be packaged in approximately 1# portions and frozen. Also new this year is a water
treatment system providing clean drinking water throughout our entire compound. A brand new ice
machine was just delivered to help keep your catch cold on the pangas…and your margarita's too! We
offer a little piece of Mexican Paradise in the quiet little fishing town of Cedros.
We offer World Class Fishing, World Class Adventure & World Class Fun!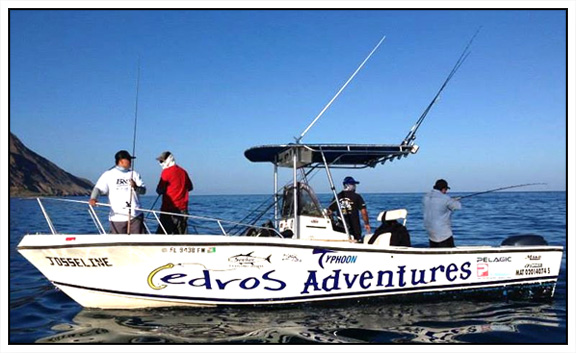 Doors open at 6:00pm Meeting starts at 7:00pm
Not a SDA club member and want to join? Click on the Forms tab and download the SDA Membership Application.